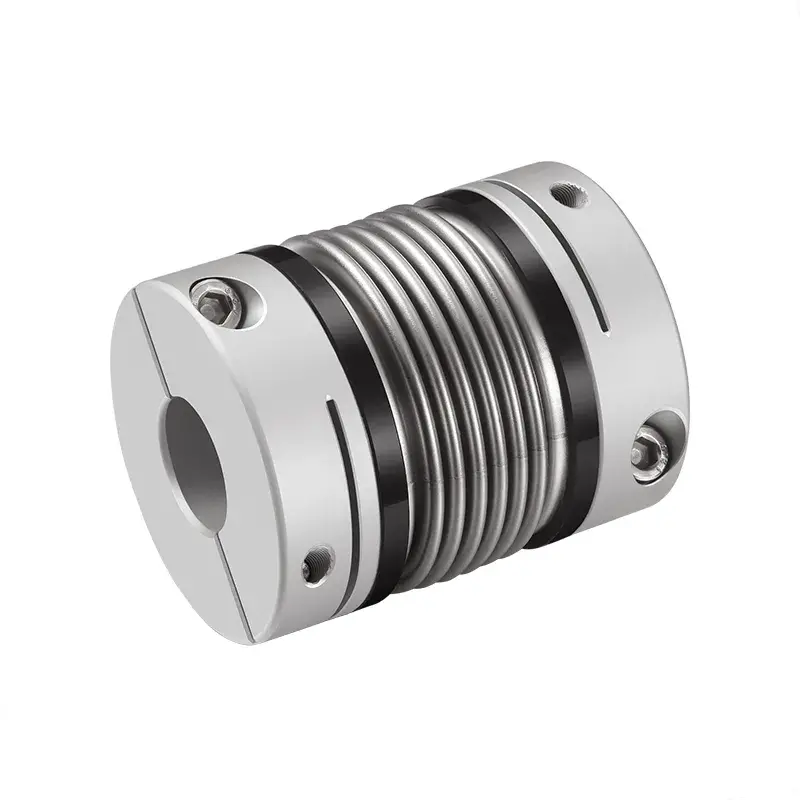 JRC Aluminum Bellows Couplings Flexible Shaft Couplings
The JRC series Bellows flexible shaft coupling are widely used in Servo Motor,Stepper Motor. Maximum speed up to 9400 rpm. The hub is made of high-strength aluminum, and the surface is anodized. The Bellows is made of SUS304, which has great corrosion resistance.
Description
Series: JRC
Product Lines: Flexible Shaft Couplings | Bellows Couplings
Hubs: Aluminum
Bellows: SUS304
Suitable:Servo Motor,Stepper Motor
Zero backlash
Simple structure
good flexibility
low inertia
large allowable angular deviation
Fastening method: Clamping Screw
MANUFACTURER'S RATING OF LOAD AND STROKE ARE MAXIMUM SAFE LIMITS. GOOD PRACTICE ENCOURAGES USING ONLY 80% OF THESE RATINGS!
Dimensions
| | | | | | | | | | | | |
| --- | --- | --- | --- | --- | --- | --- | --- | --- | --- | --- | --- |
| | Commonly used inside diameter size | | | | | | | | | | |
| | | | | | | | | | | | |
| | | | | | | | | | | | |
| | 5 6 6.35 7 8 9 9.525 10 11 12 | | | | | | | | | | |
| | 5 6 6.35 7 8 9 9.525 10 11 12 | | | | | | | | | | |
| | 8 9 9.525 10 11 12 12.7 14 15 | | | | | | | | | | |
| | 8 9 9.525 10 11 12 12.7 14 15 16 17 18 19 20 | | | | | | | | | | |
| | 10 11 12 12.7 14 15 16 17 18 19 20 22 24 25 | | | | | | | | | | |
| | 10 11 12 12.7 14 15 16 17 18 19 20 22 24 25 28 30 32 35 38 | | | | | | | | | | |
| | 20 22 24 25 28 30 32 35 38 40 42 | | | | | | | | | | |
| | 20 22 24 25 28 30 32 35 38 40 42 45 46 48 50 | | | | | | | | | | |
Exploded Diagram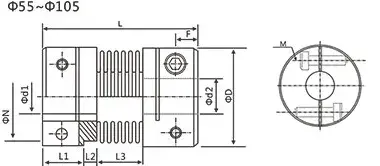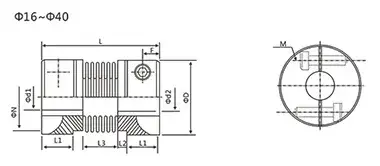 Specifications
| | | | | | | | | |
| --- | --- | --- | --- | --- | --- | --- | --- | --- |
| | | | | | | Torsional Stiffness(N.m/rad) | | |
| | | | | | | | | |
| | | | | | | | | |
| | | | | | | | | |
| | | | | | | | | |
| | | | | | | | | |
| | | | | | | | | |
| | | | | | | | | |
| | | | | | | | | |
| | | | | | | | | |
| | | | | | | | | |