Description
NEED MORE DISCOUNTS ?
Are you an Airsoft Workshop, Wholesaler, Retailer? Do you want to make yourown brand of gear accessories? if you have a large demand, please contact usimmediately. We are a professional CNC precision manufacturing factory withequipment, and supportprecision gear processing equlpment and inspectionOGO customization and packaging customizationfor airsoft gear sets, cylinderheads, bushings, etc. . Don't worry about thequality, we produce morethan 5000-10000 sets of airsoft gearsvide them to airsoftassembly factories. We are your reliable partner, and we also provide morediscounts and services. Believe that we can bring you cost-effective productsplease contact me immediately! !
WHY USE 40Cr MATERIA
Better material composition :40Cr is an alloy steel with more alloving elementssuch as chromium, molybdenum and nickel, than 45# steel. With the additionof these elements, 40Cr gear has better wear resistance and corrosionesistance in use
More stable performance: Due to the more uniform composition of 40Crmaterial, the performance of its gear in the manufacturing and use process ismore stable, and there will be no inconsistent performance caused by materialdifferences.


Higher hardness :40Cr gear can obtain higher hardness after heat treatmentand can withstand greater load and higher working temperature. In contrast45# steel is prone to soft points after heat treatment, part of the pointnardness does not meet the requirements, heat treatment hardening oftenencounter such problems, thus affecting the service life of the gear
CNC GEAR
PRECISION GEAR
Our gears are made of high-quality 40Cr steel raw mate-rials (except for the bevel gear part), which are formed byprecise CNC machining. Equipped with professionalequipment such as high-precision gear hobbing machineand gear profiler to ensure high-precision manufacturingof gears. The bevel gear part is injection gear, and thecenter shaft gear is 40Cr steel cutting gear, which is hard-ened to HRC45-50 through heat treatment process toensure the durability and hardness of the gear inhigh-speed operation. Currently, CNC bevel gears andmotor gears are being produced to further improve thequality and performance of the products.
AIRSOFT GEAR SET
Original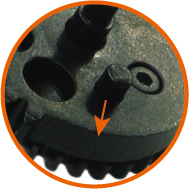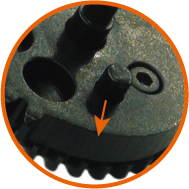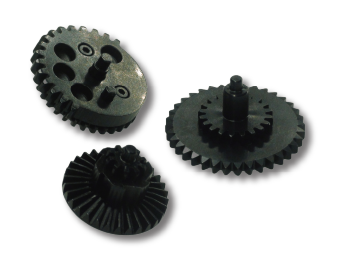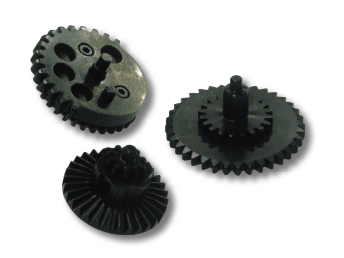 The New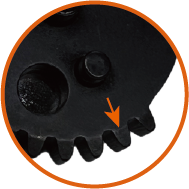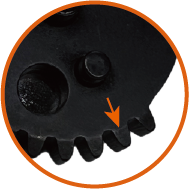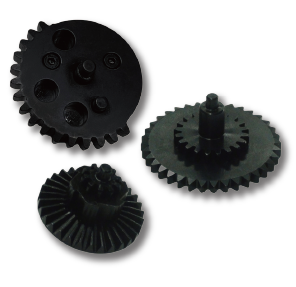 The newly modified gear moves the position of the column to achieve the effect of not reducing the initial speed
PRECISION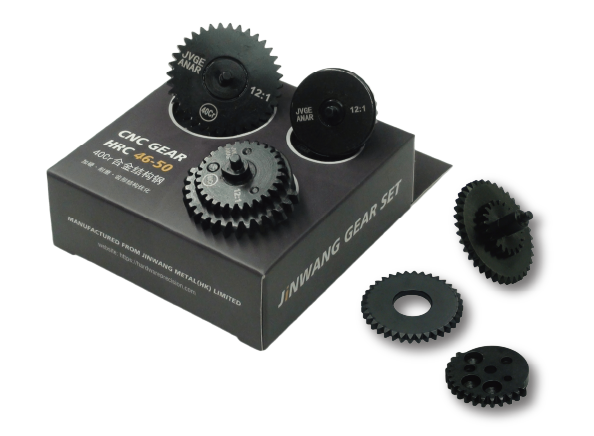 The newly modified gear moves the position of the column to achieve the effect of not reducing the initial speed
CNC TURNING
HOBBING GEAR
CNC MILLING
The gear shaft and the gear piece adopt an interference fit of 0.05mm, and the purpose of tight connection is achieved through the press-fitting method. In actual production, only by strictly controlling the tolerance can the quality, stability and reliability of the gear connection be guaranteed. Too large or too small will affect the service life of the gear in high-speed operation, and seriously cause the gear shaft and the gear to separate.
For example: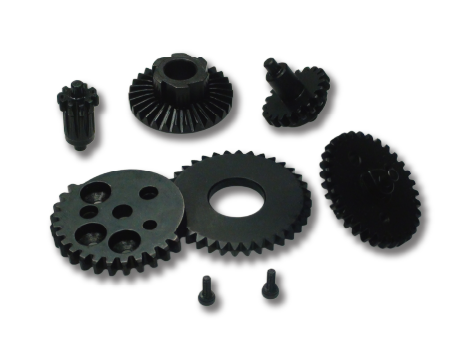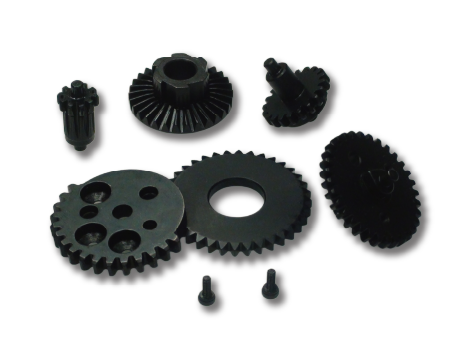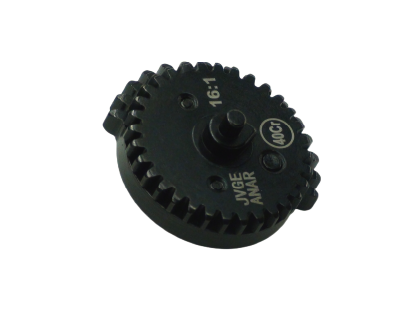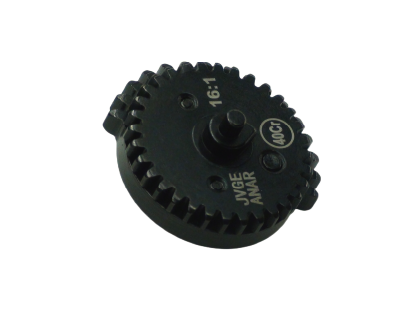 Made of 40Cr Material
Hardness: HRC45-50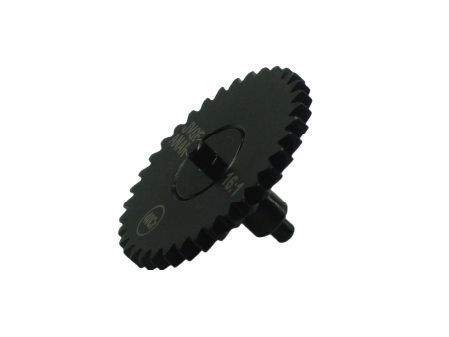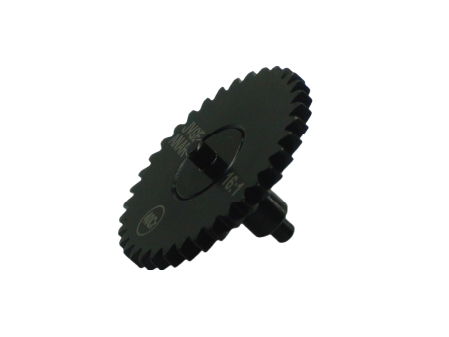 Made of 40Cr Material
Hardness: HRC45-50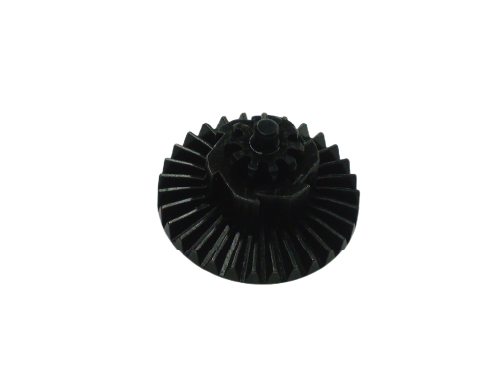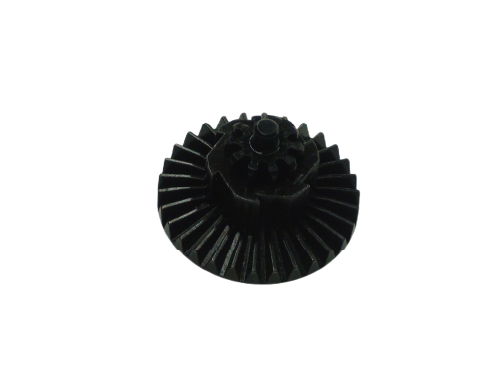 The bevel tooth part
is injection tooth
Hardness: HRC45-50
Central shaft gear is 40Cr
Hardness: HRC45-50
The 40Cr material itself has its own magnetism. In order not to affect the accuracy and service life, and to avoid the adsorption of tiny metal powder on the gear, we have done demagnetization treatment before leaving the factory. The following is the real shot of hardness test and demagnetization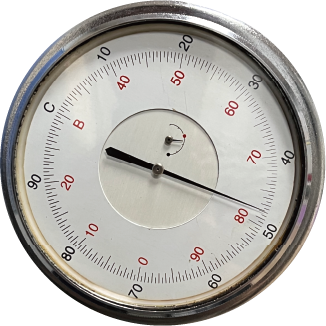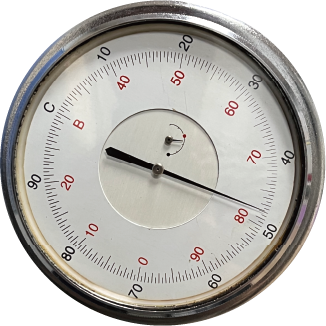 Rockwell hardness tester
actual measurement value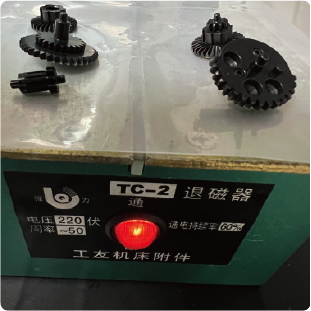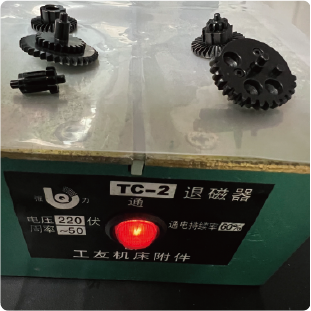 Demagnetization treatment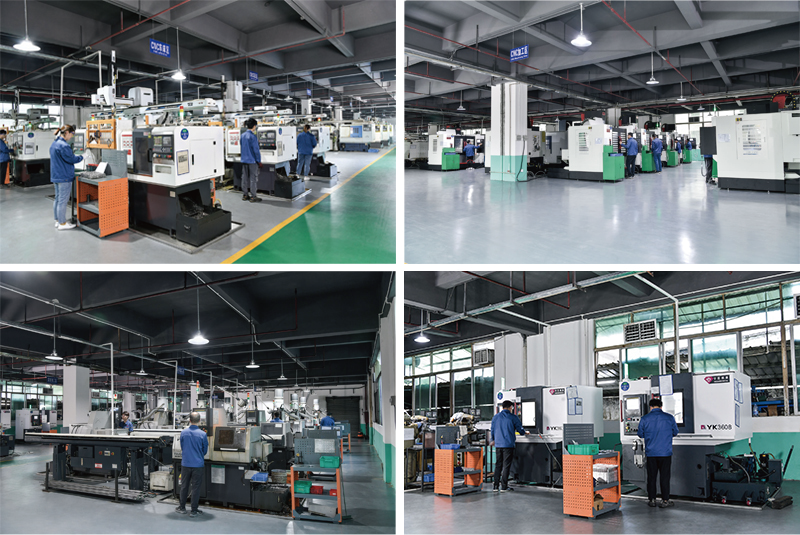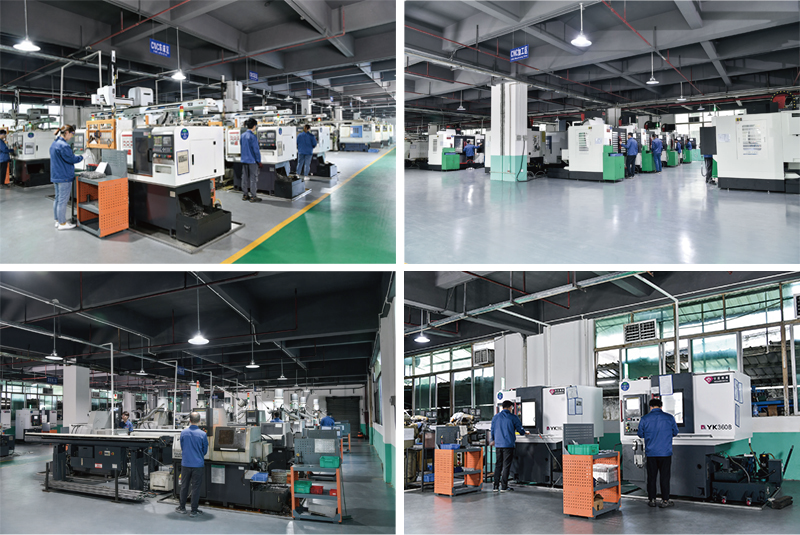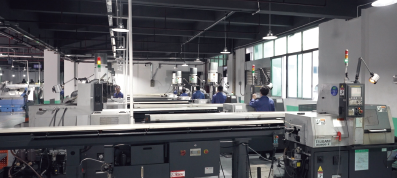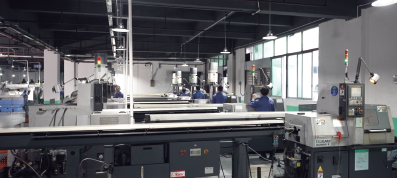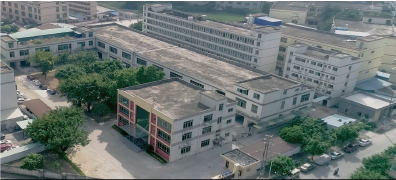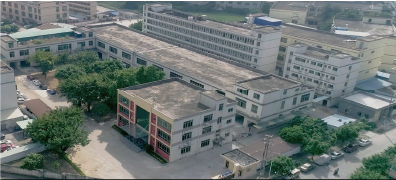 Order Process
If you are interested in our product types/services, welcome to customize.
Provide your drawings/samples
Decomposition product process
provide pricing
Provide production control solutions
Order raw materials
start production
full size inspection
Delivery of your goods with inspection form
Read More Details Click Here!