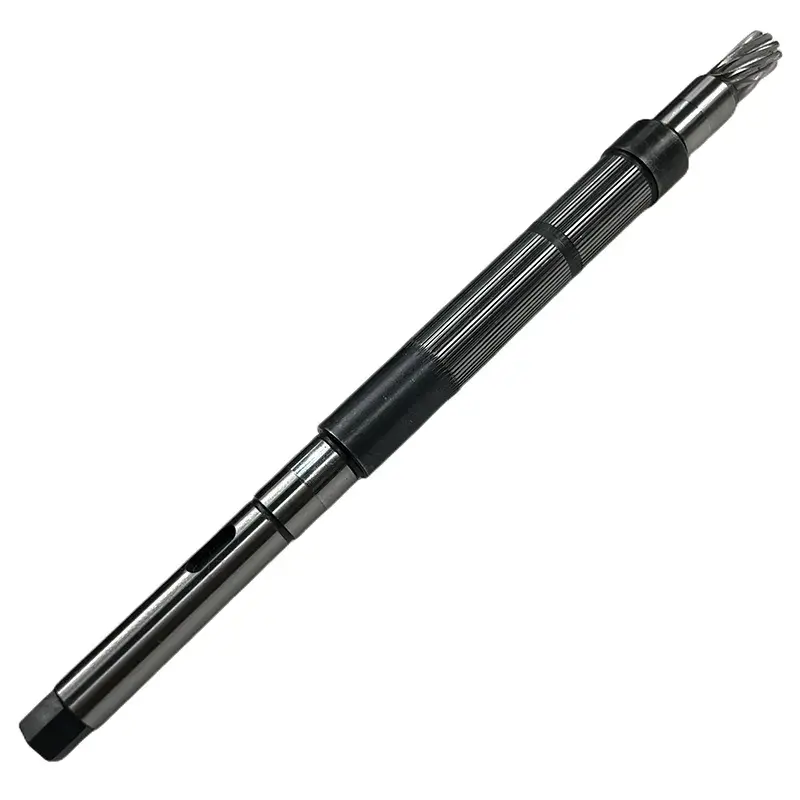 0.75KW SCM440 Hydraulic Pump Gear Motor Shaft
As an essential transmission equipment, the reducer is used in various industries. The gear motor shaft plays an extremely important role in the entire gear reducer. Every small link in the whole process of the geared motor shaft from scratch has a great effect on the life and function of the gear shaft.
Description
Gear Motor Shaft Feature
Material:SCM440
Hardness:HRC52-55
General Tolerance:ISO 2768-M
Special Requirement Tolerance:0.01Max
Roughness:Rz6.3 Max
Surface:Coated with Anti-Rust Oil
No Defects
RoHS Compliant
Suitable for:Hydraulic Pump Accessories

Processing Technology
Processes
Equipment
Overall Quenching and Tempering
HRC22-27
1st CNC Turning
CNC Lathe
2nd CNC Turning & Milling
CNC Lathe
Knurling
Knurling Machine
Rough Hobbing
Hobbing Machine
High Frequency Heat Treatment
HRC52-55
Grinding Outer Diameter
Grinder
Hobbing Finishing
Hobbing Machine

M=1.0 Z=9 JIS6
Order Process
If you are interested in our product types/services, welcome to customize.
Provide your drawings/samples
Decomposition product process
provide pricing
Provide production control solutions
Order raw materials
start production
full size inspection
Delivery of your goods with inspection form
Read More Details Click Here!